Paleolithic Arts in Northern Spain
---
Introduction
The Digital Archive Project



Cave Arts in Northern Spain


Recent Research on Paleolithic Cave Art



César. González Sainz
Prof. of the University of Cantabria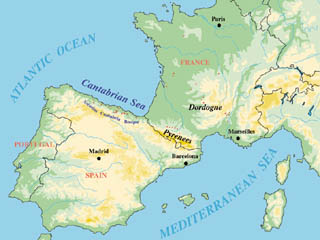 Paleolithic cave art research.
The Paleolithic art that we know today was always there. But it did not become the object of analysis until the scientific community, and soon afterwards society itself, were ready, as a result of the development and acceptance of the theory of evolution and the appearance of the very concept of Human Prehistory. Cave art research had its beginnings in Cueva de Altamira, in the center of the Cantabrian region. Here, M. Sanz de Sautuola proposed in 1880, for the first time (in a published article and after a logical and coherent discussion), that the astonishingly beautiful images of wild animals in the cave were of Paleolithic age. The bison on the incredible ceiling in Altamira remain the most spectacular example of cave art in the entire Cantabrian region, even today. After a long controversy, the artistic capacity of the Upper Paleolithic people slowly came to be accepted, and their graphic depictions, in caves and on artifacts, thus became the object of intense and exhilarating research throughout the century which has just come to an end.

This length of time can be divided into three main periods. The first one, led by Henri Breuil until the mid-1950s, was focused on the exploration of hundreds of sites, and the publication of this amazing art. This occasioned the first chronological and interpretive synthesis (generally based on the comparison of Paleolithic societies with present day or historical primitive peoples and the principles of magic or totemism). Later, until 1980, research was dominated by A. Leroi-Gourhan and a structuralist perspective, explicit in his important book Prehistoire de l'art occidental, published in 1965. This study, a synthesis of his fieldwork during the previous decade, attempted to uncover the order existing in decorated caves, the graphic expression of ancestral myths, and to establish the chronology and rhythm of change during the Upper Paleolithic. In the last two decades, Paleolithic art research has come out of its European limits, and groups of cave art of the same age are now known in other parts of the world, like South Africa or Australia. At the same time, researchers of different intellectual traditions are taking greater part in the study of Paleolithic art in the southwest of Europe. Together with much more eclectic perspectives regarding interpretation, the main developments lie in the effects of the technological revolution. New systems of lighting, photography, surveying, computerized databases, digitalization and computer aided treatment of images, absolute dating and analysis of the pigments..., all these are changing each phase in the research process. Furthermore, the clear increase in the impact of human action on the land during the last few decades, as in public works such as reservoirs, highways, and the plowing up of land, is making the extensive documentation of sites and the development of conservation policies even more necessary.


---
Muse Digital Archiving Frontiers
2-1, Udagawa-cho, Shibuya-ku, Tokyo, Japan. Tel:03-3464-6927 Fax:03-3476-2372
e-mail:info@muse.or.jp
Copyright reserved by Texnai, Inc. and IPA, 1998,1999,2000,2001,2002
---